Program Description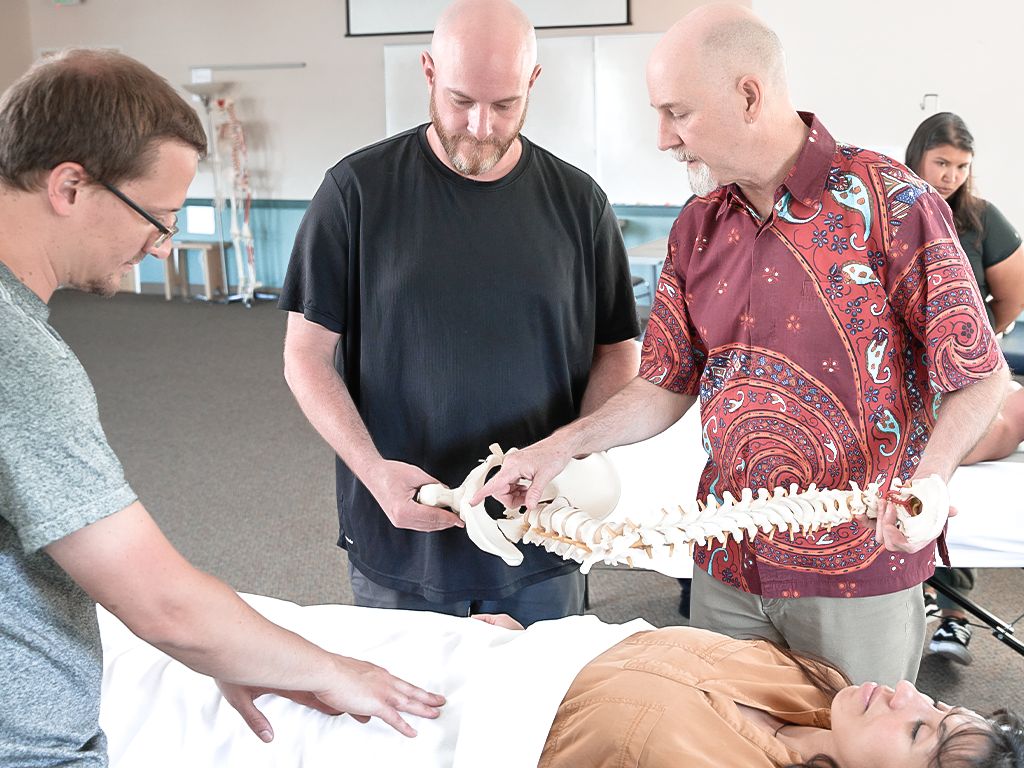 The Rolfing® SI Certification Program is the core learning program for the discipline of Rolfing Structural Integration, based on the foundational teachings of Dr. Ida P. Rolf. This comprehensive program delivers the fundamental knowledge and skills to those wishing to become Certified Rolfers® and sets the benchmark for the high standards we hold to, for Rolfing practitioners worldwide.
At a glance:
Accredited training in Boulder, Colorado

731-hour certification training program

28 weeks duration

3 tuition phases, each requiring self-study

3-week break between each phase

Faculty to Student ratio is limited to 1:10
You will learn:
The principles of Rolfing Structural Integration

Anatomy, Physiology, and Kinesiology from the perspective of Rolfing

®

SI

How to conduct a complete Rolfing® Ten-Series and Rolf Movement®

session

How to recognize structural and functional patterns

The ability to differentiate through touch

Practice building techniques

Professional ethics
Students enrolled in the 731-hour Rolfing Certification Program are concurrently enrolled in the Massage and Bodywork Program. Upon successful completion of the program, students will have met and exceeded the licensing requirements for massage practice per Colorado Revised Statute 12-35.5-117 ( 12-35.5-117, C.R.S.).
Before You Apply, You Need

A High School diploma or recognized equivalent.
One of the following:
An official academic transcript, equivalent to an AA degree or occupational certificate, showing at least 60 credit hours at an institution of adult or higher education.
OR
Documentation of a minimum of four years of equivalent career experiences and professional accomplishments.
A federal- or state-issued ID and passport-sized solo headshot photograph (for identification purposes).
A resume of professional experience.
Three professional reference letters (1-2 pages maximum length).
International Students: Please indicate the need for an I-20/M-1 Visa and submit your completed application, including a copy of your passport ID page and official TOEFL scores, no later than 60 days prior to the class start date.
Admission Requirements
Non-refundable $50 Enrollment Application fee. (Fee will be refunded if the student is not admitted or has not signed an enrollment agreement.)
Verification of having received a complete Rolfing Ten-Series from a Certified Rolfer. DIRI reserves the right to require a physician's release for any student.
Three Rolf Movement® sessions, from a Certified Rolf Movement Practitioner, must be received by the end of Phase II. One session is due before the start of Phase II of the training.
Approval of an application and required enrollment forms.
A written 2-3 page personal life experience essay.
Pre-Phase I written assignments are due four weeks before training begins. All submissions are made through the Online Admissions Application Process.
Please Note: An interview may be required to complete some applications.
*Students with relevant existing medical conditions must consult with and have permission from their physician prior to starting Phase II. Additionally, it is recommended that students with relevant medical conditions complete their Ten-Series Admissions Prerequisite several months prior to starting the program, in order to avoid overstimulation when participating in student clinics during Phase II, where they will receive the Ten Series again.
---
Overview of Program Phases
For the entry-level student
6 week intensive course = 218 hours
5 days a week from 8:30 a.m. to 6:00 p.m.
Admissions process applies


Description:
Phase I offers an integrated and innovative approach to learning about the human body and the essential skills and academic knowledge required to practice Rolfing Structural Integration. Designed for students with no formal training in massage or bodywork, or those with some base-level training, we emphasize individual learning by providing each student with support for his/her specific learning needs.
Taught through well-illustrated lectures, experiential exercises, and guided palpation, classes are designed to provide the optimal learning experience. Students study the foundation subjects as well as develop skills and knowledge in perceptual acuity, efficient body use, and quality of touch.
What you'll achieve:
understand Anatomy, Kinesiology, and Physiology from the distinct perspective of Rolfing SI
learn guided palpation and touch through training in Skillful Touch, which is the proprietary form of clinical practice bodywork at the Dr. Ida Rolf Institute®
train in the essential dynamics and professional skills needed to cultivate and maintain professional therapeutic relationships with clients
prepare for the Dr. Ida Rolf Institute's Life Sciences Exam, which all students must pass prior to Phase II
For students preparing to become Certified Rolfers®
8 week intensive course = 244 hours
5 days a week from 8:30 a.m. to 6:00 p.m.
Prerequisites apply - All students must maintain Satisfactory Academic Progress, receive a final grade of 70% of higher for Phase I, and pass the DIRI Life Sciences Exam (Anatomy, Kinesiology & Physiology) with a score of 70% of higher prior to beginning Phase II.

Description
In Phase II, students learn the skills required to recognize simple structural patterns, to see structure in relation to gravity, and to develop a working knowledge of the basics of Rolfing® Structural Integration and Rolf Movement® principles and theories.
There is a required study interval between completing Phase II and Phase III during which time students work on integrating and assimilating the skills and information from Phase II. It is highly recommended that students participate in a mentorship with a Rolfer® during this time to gain a level of practical knowledge to assist with the transition to Phase III.

What you'll achieve:
Focus on your individual personal embodiment and understanding of the Principles of Rolfing SI
recognize simple structural patterns in the body's form and in its function, to see structure in relation to gravity
establish a working knowledge of the basic principles and theories of Rolfing SI and Rolf Movement Integration
For students who have completed Phase II in preparation to become Certified Rolfers®
8 week intensive course = 269 hours
5 days a week from 8:30 a.m. up to 7:30 p.m (per student clinic schedule)

Prerequisites apply - All students must maintain Satisfactory Academic Progress and must pass Phases I and II with a cumulative score of 70% or higher prior to beginning Phase III.

Description
This is the clinical phase of training where students deepen their understanding of the Ten-Series and Rolf Movement sessions, by practicing on clients from the community under instructor supervision. The educational focus shifts from the student's personal process and experience to that of the client.
This is conducted in both the classroom and in the Community Client Clinic, further preparing them for the diverse needs of a "real world" clientele. lectures, demos, and practicums designed to deepen the understanding and ability to perform each session according to the individual client's needs.
What you'll achieve:
develop efficient body use and self-care whilst working
build client-practitioner relationship skills (the therapeutic relationship)
develop quality of touch and body-reading
develop essential business and practice-building skills
understand professional ethics and public education practices
Accreditation: Commission on Massage Therapy Accreditation (COMTA)
This Rolfing® Certification Program is accredited by The Commission on Massage Therapy Accreditation. In order to graduate from an accredited program, all three phases of the program must be attended at the Dr. Ida Rolf Institute in Boulder, CO. International, and regional school programs are not accredited by COMTA.

State Approval
DIRI is approved by the Colorado Department of Higher Education, Division of Private Occupational Schools.
Learning Pathway for the New Bodyworker